Impress your friends. Be the life of any party. You, too, can use the stars to tell time!

One of the easiest star groupings to use for this is the Big Dipper. After dark during mid-March, look for the Dipper shining midway up in the northeastern sky.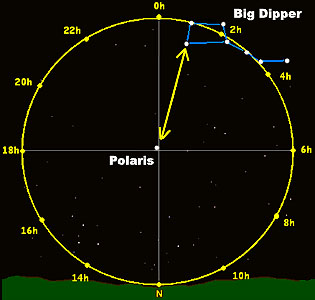 The Big Dipper, of course, is a familiar group of seven stars that forms the shape of a bowl with a curved handle. The two stars at the end of its bowl are known as the pointer stars since they aim toward Polaris―the North Star.

As the Earth turns during the night, the Dipper's pointer stars constantly change their orientation relative to the North Star. In fact, we can imagine the stars at the end of the Dipper's bowl as the hour hand of a huge 24-hour clock―handy for telling time by the stars.

But it's not as simple as just looking at the Dipper to tell time; you'll need to do some arithmetic before you can amaze your friends. Here's all you need to do:
1. Estimate the position of the "pointer" stars of the Dipper to an accuracy of about one-quarter hour. For example, in the illustration they point to about 1 o'clock.
2. Count the number of months past January 1 to the nearest one-quarter month. If you try this in mid-March, for example, that number would be 2.5.
3. Add the values of Step 1 and Step 2. For our example, the answer would be 3.5. Then double this result; in this case it would be 7.0.
4. Subtract the answer of Step 3 from 16.25. For our example, the answer would be 9.25. (If the Step 3 value is larger than 16.25, subtract it from 40.25 instead). If the result is less than 12, the time is p.m. If greater than 12, it's a.m. In our example, the time is nearly quarter past 9 in the evening. This number is in Standard Time; don't forget to add one hour for Daylight Savings Time when that comes about.
Remember this is just a very rough estimate and, with practice, you'll be able to do this quickly in your head.

But if all your efforts to tell time by the stars fail, quizzically touch your forehead while stealing a glance at your wristwatch. In the dark, no one will ever know!